Sacred Turtle Wellness
Go beyond your perceived limitations.
COMPLEMENTARY ALTERNATIVE INTEGRATIVE HEALTHCARE on the Cutting Edge since 1992. Linda A. Boucher, RN, LMT, is a Certified Professional practitioner and specializes in Clinical Hypnotherapy, Angelic Usui Reiki, Clinical Aromatherapy, Women's Wellness, and more. She is also Certified as an RN ChildCare Health Consultant and In-Service Trainer.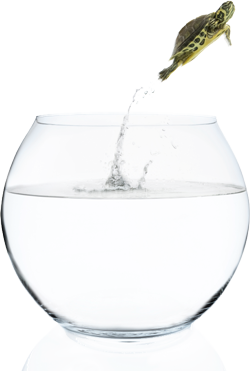 Sacred Turtle Wellness takes a advanced multi-disciplinary holistic approach towards your overall well-being and health maintenance goals. Our primary focus is to assist you in achieving optimal "quality of life" by providing you with a better way to manage your health, happiness and hope for a brighter future. We believe that, NO, you DON'T always "have to learn to live like this for the rest of your life!" Because, YES, you DO HAVE OPTIONS in many cases, which you may or may not have considered. So, why not "safely" explore them with us?

If you are frustrated with the side effects of medication and/or the challenges of managing your health condition, or are trying to overcome today's unhealthy habits as a preventative effort for your optimal future health and longevity, Sacred Turtle Wellness can help you on your quest for success!
We also look forward to partnering with your professional healing team to augment the conventional healthcare you're receiving to help you achieve a breakthrough in personal health and wellness. As such, we will work with you, as Nature would intend it, to support your own innate healing process in an interactional collaborative effort to do so. There are NO gimmicks, NO synthetics, NO fads, NO magical pills or formulas, NO marketing quick-fix cures, etc.—just "pure" healing scientific theory and methodology at its best for your body and mind to assimilate on its own!
Our goal in all we do is to help you to realign with the Earth's universal healing energy and/or to help you seek answers as support to your personal process. As such, there are no cookbook solutions, since we are all unique within our own health history, family history, life experience and stage of our life cycle. We HONOR that "treasure" which makes you WHO YOU ARE with unconditional positive regard for ALL of our clients and assist you in realizing your particular goal for SUCCESS at last!
Classes and tutoring.
Sacred Turtle Wellness also provides a variety of classes, healing support groups and tutoring services for both healthcare professionals and the lay population, who may be interested in pursuing educational opportunities in the healthcare field. For more specific information, please see our "Services" page.
Are you looking for Healthy Child Care Connecticut Certification?
Don't get scammed by taking this class from a non-certified RN's who is advertising a non Department of Public Health-approved program and is selling it at an exorbitant cost. Sacred Turtle Wellness is completely certified to teach these classes and will give you the Connecticut certification you need for your child care operation. Find out more about this class on our Services Page.
Studying for your Medical Assisting or Massage Therapy Certification or Nursing Licensure Exams?
Our experienced Professional Educator/Tutor can provide you with vital tutoring and review sessions to assist you in achieving the success you need to move ahead with your career endeavors. Believe it or not, we can also teach you a tool to assist you in overcoming test anxiety, which so often gets in the way!

Whether you're a prospective Medical Assisting, Massage Therapy, Nursing or Allied Health student, we can help you prepare for your CMA/RMA Exam, NCBTMB Exam, or NCLEX Exam, in addition to offering academic support to facilitate the coursework of your accredited program (whether it be a business/occupational school or college curriculum). Sometimes just hearing/seeing the most difficult concepts presented in a different way can truly make all the difference, producing that proverbial "lightbulb effect!" Quite often for adult learners, it can simply be a matter of having been out of school for a while or just a total career makeover, as is the case today more than ever in this fragile job market.
Healing the Chains That Bind You
A new course on getting over past relationships is starting Monday, June 7th, 2010. Find out more about this class on our Services page.

Sacred Turtle Wellness also provides other classes and coursework, from the special DPH approved Healthy Child Care Connecticut Medication Administration Certification Program for Child Care Providers and Summer Camps, to Asthma Management, Infant Massage and other parent seminars upon request, to Aromatherapy Basics, to our very own Healer Series, Healing the Chains that Bind You, Angel Meditation groups, Reiki Shares and Angelic Reiki classes. Please see our Services page for details and be sure to ask us if we just might provide any other courses on topics of interest that you don't see listed there. We can often design a class which can specifically address your needs or refer you to another "quality" professional who could, if it's a topic beyond our scope of practice or experience.

Once again, your options can be unlimited! If you have any questions about our services, please give us a call at 860•305•6751 between 8:30 AM and 9:00 PM to see if we can be of service to you.

Thanks so much for visiting our website! Wishing you optimal health and wellness! NAMASTE!
All sessions are by appointment ONLY to be arranged in advance.
To book an appointment call 860•305•6751
To schedule your appointment today, please call between 8:30 AM and 9:00 PM